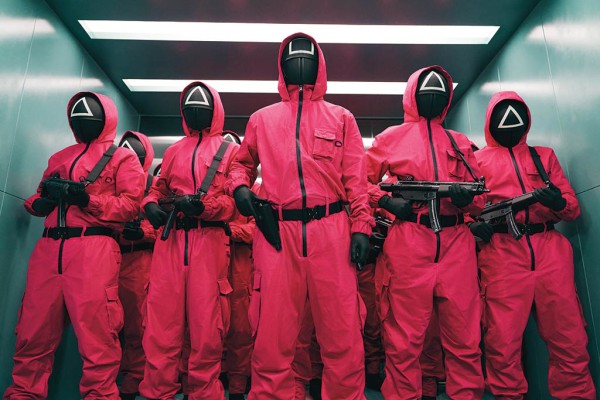 With The Mandalorian taking a breather after winning two consecutive Emmy Awards for Outstanding Special Visual Effects in a Season or a Movie, it will be up to The Book of Boba Fett to continue the winning streak as the iconic bounty-hunter-turned-crime-lord series has been described as The Mandalorian 2.5. Whether Boba Fett receives a nomination, or more, will be revealed when the Primetime Emmy Awards takes center stage on September 12, 2022 at the Microsoft Theater in Los Angeles. The other category is Outstanding Special Visual Effects in a Single Episode, which last year was awarded to Star Trek: Discovery, another contender from a storied science fiction franchise which will be trying to repeat the feat once again.

An interesting bellwether is the 2022 Visual Effects Society Award nominations that place Loki and Foundation at the forefront with both being singled out for their stunning environmental work for Lamentis and Trantor. "We were asked to create meteor effects from scratch," states Digital Domain Visual Effects Supervisor Jean Luc-Dinsdale when discussing Lamentis and its moon Lamentis-1. "We went through multiple versions of providing the meteors, the impacts, and the dust and debris that flies around them. That was then tweaked and populated throughout the episode because the meteors are a constant threat, but not always the focus of the sequence."

Trantor is literally 50 different cities stacked on top of each other. "Every level was built hundreds of years before the next one, so there was a lot of concepting and architectural research that went into how Trantor and its multilevel structure was designed," explains DNEG Visual Effects Supervisor Chris Keller. "We created all of these interstitial elements between buildings, like bridges, platforms, megastructures spanning 1,000 meters, through the sky ceiling of a certain level into the next level. Then you'll see hyperloop trains and, if you look carefully, flying vehicles. All of that had a certain logic."

When it comes to photorealistic CG characters, Leshy-infected Eskel and Nivellen from The Witcher and Ampersand from Y: The Last Man were also nominated for VES Awards. "There has been real growth on the monster side," explains Andrew Laws, Production Designer for The Witcher. "We work in ZBrush from the ground up to understand the movement and how the creature is going to take shape in all dimensions. It's a much more fluid process. Once we have established a ZBrush model that has an organic shape, we'll do some overpainting to get the mood of the creature. When it is agreed upon how that is going work, then the 3D model goes out to visual effects and the vendors to bring in the detail and movement."

Originally, Ampersand was going to be real but was changed to CG because Disney has a 'no primate' rule. "Stephen Pugh and Jesse Kawzenuk, our amazing visual effects supervisors, made it so easy for me," recalls cinematographer Catherine Lutes. "I was constantly laughing at the puppet Amp that we had. It helped with the way that the light was falling, and that's a good reference as well for visual effects. Stephen said that camera shouldn't do things that a monkey wouldn't do. If the camera is a little bit stilted or doesn't move smoothly, that's great because that's what would happen if you were trying to follow an actual monkey running or moving."

The Wheel of Time features a wide gamut of visual effects from creatures, magic and world-building done in a grounded fashion. "One thing that was important for me from the beginning was that this world feel authentic and real," explains The Wheel of Time creator, executive producer and showrunner Rafe Judkins, "even for the actors and crew, trying to go to places, as much as we can put stuff in-camera, even if we end up augmenting or enhancing it later with visual effects."

The fact that the sixth season is the grand finale for The Expanse may see Emmy voters finally honor the body of work with a nomination. "The most challenging thing is wrapping your head around things that may not sound that difficult initially, like deorbiting maneuvers where you slow going forward to be able to drop," notes Bret Culp, Senior Visual Effects Supervisor of The Expanse. "We've done a good job and, as a result, it has been made clear to us that we are favorites with a lot of people at NASA and have an open invitation to visit the JPL [Jet Propulsion Laboratory]."

The usual suspects include Lost in Space, which has been rightly lauded for being able to turn practical locations into alien worlds and making biomechanical robotic beings that are empathetic and menacing. "The most challenging visual effects sequence in the finale of Lost in Space was creating the horde of killer alien robots and sprawling wreckage of their crashed ship," remarks Lost in Space Visual Effects Supervisor Jabbar Raisani. "The entire episode had to be filmed on stage, and we decided to shoot against black. As both the director of the episode and the VFX Supervisor, I relied heavily on shot planning with our in-house previs team which maintained close collaboration with the production designer to maximize our efforts and bring the series to its epic conclusion."

Returning for sophomore seasons are Star Trek: Picard and Raised by Wolves, with the former mining the fan adoration for the Starfleet officer portrayed by Patrick Stewart and the latter infusing Alien mythology into the android survival tale produced by legendary filmmaker Ridley Scott. The hardest sequence to design, create and execute for Raised by Wolves was the outerspace sequence between Mother and the Necro serpent in Episode 208," reveals Raised by Wolves Visual Effects Supervisor Raymond McIntyre Jr. "The flying Necro serpent is lured away from killing Campion by Mother, who leads the serpent into outer space in order to attempt to kill it. This scene was added deep into postproduction, and visual effects was tasked with designing an entire sequence from scratch as no live-action footage existed. Visual effects designs included the flying serpent, lighting design in outer space, nebulas, the planet Kepler 22B seen from this viewpoint, Mother's new kill scream and a visualization of the failure of the EMF dome protecting this area of the planet. Execution involved creating realistic camera motion for each shot, and beauty lighting with sun flares, allowing for dirt on the lens to show up during flares, all while rendering fully CG shots."

Making their debuts are Obi-Wan Kenobi, which has Ewan McGregor reprising his role as the legendary Jedi Master from the Star Wars prequel trilogy, and Star Trek: Strange New Worlds, an exploration of life on the USS Enterprise under the command of Captain Christopher Pike; both of them serve as prologues to the original movie and television series and have the best chances to get nominations for their respective franchises, especially if a proper balance is struck between nostalgia and canon expansion.

Then there is a matter of art imitating life that will resonate with some while being too close to the bone for others, where the viral mayhem portrayed is even more devastating and required extensive invisible effects to paint out modern-day life. In Sweet Tooth, a pandemic causes hybrid babies that are part human and animal, with the adolescent protagonist being half deer, while Station Eleven focuses on humanity trying to rebuild society after a virus has decimated the population, and See envisions a future where blindness has reached epidemic proportions.

Serving as dark social commentary on the growing financial divide is Squid Game, which combines elements of The Most Dangerous Game, childhood games and Dickensian debt into a rating sensation for Netflix, and is a strong contender to upset the voting establishment. "The game spaces in Squid Game were unique and something we had never experienced before," states Cheong Jai-hoon, Visual Effects Supervisor of Squid Game. "What we wanted to achieve from the settings of Squid Game was a fabricated yet realistic look, and it was quite challenging to balance the two conflicting characteristics. Especially in Episode 107, characters play the game of Glass Stepping Stones from high above the ground, and we had to create an environment that would make the viewers immerse in the fear and tension. We put the most effort into deciding the depth from the stepping stones to the ground and the overall scale of the whole setting. We could have easily exaggerated, but we strived to find the right balance between what seemed fake and realistic, as it was more difficult than we thought."

Also, present is the author only outdone by the Bard himself when it comes to number of film and television adaptations of his works. Lisey's Story was conceived by prolific horror maestro Stephen King, who has supernatural unrest intersecting with personal trauma. Comic book adaptations are not in short supply. A superhero who has a sharp wit and archery skills is paired with a like-minded protégé in Hawkeye, which channels Shane Black's penchant for Christmas, action sequences and odd-ball comedic pairings. For those wanting an irreverent take on the genre, James Gunn helms the small screen adaptation of Peacemaker, where an extremist murderer embarks on a quest for peace. Moon Knight introduces the Marvel Studios equivalent of Batman, but with an Egyptian god reincarnation twist that raises questions about the mental sanity of the main character.

Superman & Lois reimagines The Daily Planet colleagues as a married couple trying to balance domestic life and a rogues' gallery of high-flying adversaries. "If Superman is fighting someone in the air where they would both be horizontal, it was much more time efficient and easier on the actors if they can be vertical," states cinematographer Stephen Maier, who added a physical camera shake for the sake of realism. "The stunt team will often go away to design or rehearse something, do their previs that they film on their iPhones, cut it together and show it to us. We have a close collaboration with special effects in regards to atmospheric smoke and haze. The gags that they come up help to exemplify the strength of Superman, such as him lifting a car."

Considering the growing demand for content and the acceptance of visual effects as the primary work tool of potential nominees reflect how far the production quality of television and streaming shows have come in being able to expand the scope of creatives with a theatrical sensibility. It is because of this that the Primetime Emmy Awards has become as fascinating to watch as the Academy Awards as both showcase the very best of what can be achieved when talented digital artists get to contribute to the storytelling. Undoubtedly, the eventual winner will encapsulate the highest of level of creative and technical ingenuity achievable under current circumstances and will serve as a building block for what is to follow.